The whole month of May is dedicated to books, reading, early literacy, authors and everything else that has to do with literacy. There are always things that you can do at home to emphasize a good reading habit. Here are just a few ideas and practical ways to prepare your child for reading and early literacy:
Reading to your child at an early age helps to build a good language foundation but there are other things that you can do, too.  When you talk to your child give everything a name. Make sure your child sees you reading- children love to copy their parents. You can play games that enhance vocabulary building like "I spy with my little eye". Take time to answer your child's questions, but always on an appropriate level- you don't want to bore him.
You can start at an early age to begin reading to your child- already babies enjoy hearing the mother's or father's voice. If you have not yet introduced a daily reading routine, remember that it is never too late to start this habit. Make sure to find a time during the day where you most likely are not going to be interrupted. Switch off the TV! This routine takes only 10-20 minutes, so make it a priority- if the phone rings, let it ring. Your child will feel how special she is and will value reading as much as you do. Never use reading as a threat or your child's attitude towards reading might shift from positive to negative.
Choose a place for this routine- it can be on the sofa or in a corner in your child's bedroom. Make it comfortable and have everything prepared (books!!) – this way you don't have to interrupt the cozy atmosphere. You might want to send her to use the bathroom before you get started.
Give your child access to books, even if it means that they will look a little tattered after some time. You can buy hard paper books for toddlers or even books made from fabric. Have them next to your child's bed, in the car, in the stroller, in the kitchen. It is easier (I am not saying easy) to pass waiting time with some books.
Start with looking at the cover and ask your child what he thinks the book is about. Let him turn the pages on your signal. Read in different voices and use expressions, that makes reading vibrant. Answer questions right away, it will not disturb the reading time. Keep reading the same book over and over again if your child asks for it. Children learn through repetition and they love the excitement that they know what's going to happen next. If you are reading a well familiar book, stop at the ending of key words and allow your child to provide the word. Most importantly know when to stop altogether, in particular if the book was a poor choice and you loose your child's interest.
Have fun reading and feel free to share your favourite books with us at school.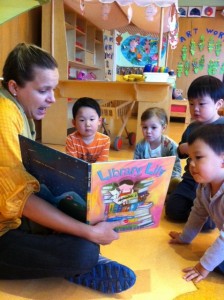 The Pteros reading "Library Lily" by Gillian Shields