Last weekend our family met with friends over some hot chocolate and Christmas cookies to celebrate the 1st Advent.
That was also the day when we put up the tree in our house and lit the first of four candles on our advent wreath. The whole morning while listening to Christmas carols and decorating the house I tried to explain the whole story to our 2½- year- old son, making it as magical as possible. I showed pictures of Santa, his reindeers, mentioned presents and of course put high emphasis on the part where he has to behave well for the next four weeks.He definitely likes it so far as every morning now begins with a little surprise and a piece of chocolate from his advent calendar.
The aforementioned afternoon with our friends had actually turned into a very interesting day of debating whether or not to tell your child the truth about Santa or not.
While they argued that first of all they don't want Santa to take credit for the gifts they had bought, they also worry about their son not trusting them anymore after he'll find out that the whole Santa story was made up.
Whilst I can relate a bit to their fear about the truth part from an educational point of view, it doesn't convince me at all to tell the truth from the very start and not granting our son those magical moments. I can't wait for the "mouth- open- eyes- wide- adorable- look" he will have on his face when he enters the living room and sees the beautifully wrapped presents under the bright and shiny tree and wonders when Santa had put them there. Besides, I believe that it takes more to break the trust between our son and us than one small fib once a year.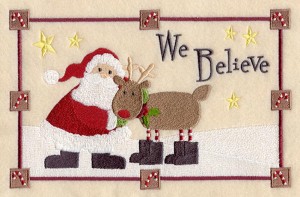 But it got me thinking. When is the right time to tell your child that Santa doesn't exist? Is it best to tell them yourself before they'll hear it from their classmates? Is the right age at six, seven or eight? Or shall it be done quite early to "toughen them up"?
While I personally hope that we can enjoy those magical moments for a while longer I think the best is to follow your child's lead.  At some point they will either hear it from their friends, become suspicious (after all we don't even have a chimney!) or figure it out themselves. When they are going to confront you I guess a good reply is: "So, what do you think?" By their response you will know whether they are ready for the full truth or not.