All about Road Transport and Road Safety: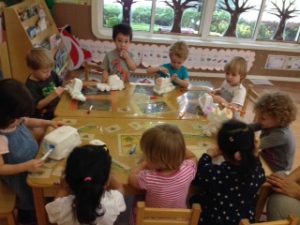 What an fascinating topic this has been for the transport loving sabers!! We often see our class getting fully engrossed in the construction area with the cars and train toys, so this week was a real treat.  We loved exploring the books about vehicles and road signs, so it was full steam ahead for this interesting topic!
This week the children shared their knowledge on road safety and how they travel to school. We re-enacted the roles of bus drivers and traffic wardens and loved singing along to 'Driving along in my Car' and the road safety song 'Stop, Look, Listen, Think.' We worked together to make a mini city and directed the cars around it.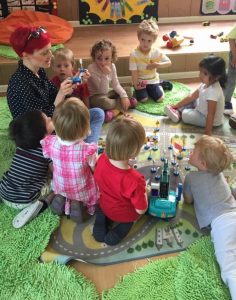 Pre Literacy:
This week we practice our Jolly Phonics song for 'b' We learned that it's 'b for bat, ball and boy.' We designed boats and liked sharing bananas.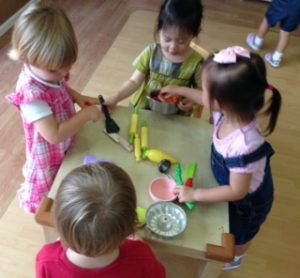 Chinese Character:
This week, we learned the word for truck and compared the different trucks we like, the sabers are all keen fire fighters and all voted for the red fire truck as their favourite.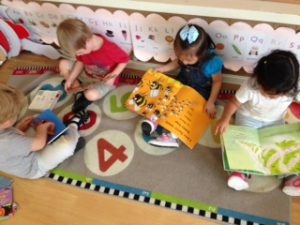 Maths:
We had messy fun with maths this week, modelling play dough to make directional signs and using different colours to the dye. We enjoy completing life cycle puzzles and carefully build our own transport verhcles with construction toys.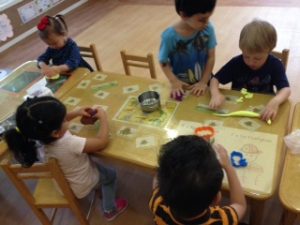 Painting: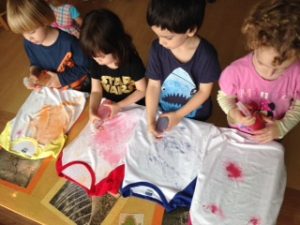 We learned a new way to paint, using spray bottles. We chose our favourite colours and had a lot of fun creating our own T-shirts ready for news years special performance day. We are sure the children will proudly wear their designs.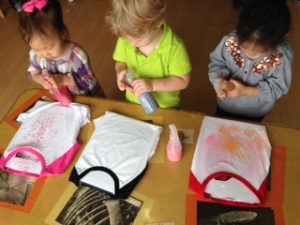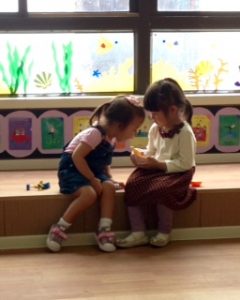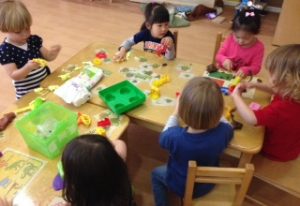 Music:
Listening to 'Learn English Kids' we sun along to 'Over the Mountains,' 'Stop Look, Listen, Think' and 'Down by the Station.'
We had a rehearsal in the gym, practicing our special End of Year performance songs 'The Little Seed' and 'The Planting Song.' Our class is great, dancing enthusiastically and singing loudly, Go Sabers!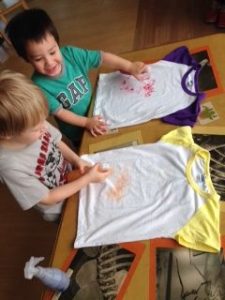 Science: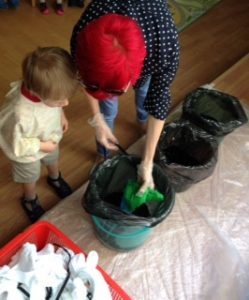 Mixing powered colouring and cups of water we learned how to the dye and learned that its is really wrong paint and takes a long time to dry! We wrapped up our own scarves that we will also use on our big day next week.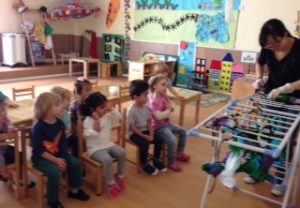 Drawing:
We designed fathers day cards, with our own handprint, careful; colouring and thoughtful hearts. Great work sabers, we are sure your family will appreciate your thoughtful work.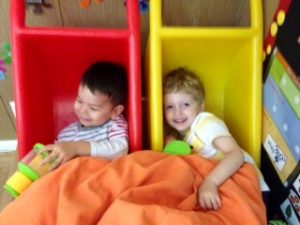 Story Time: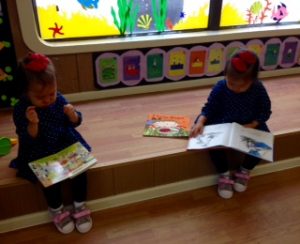 This week, we really liked sharing Florins book 'Boo,' discovering all the creepy objects hidden in the story. We loved the nosy farmyard animals story and liked the colourful pictures in 'Cars Galore.'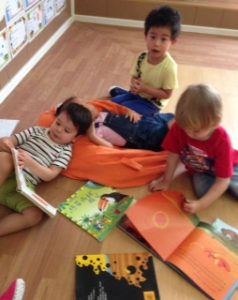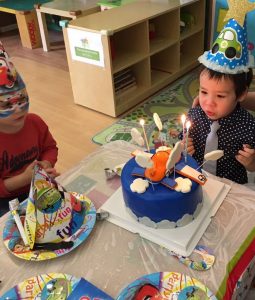 We had a fantastic start to our week with Oskar's birthday party! He shared delicious rainbow cake and excitedly played musical chairs together~we wish you a wonderful birthday weekend Oskar!
Next Week:
END OF YEAR PERFORMANCE 年终表演
We will be taking the school bus to the venue on Monday, 6th of June for a rehearsal. Please be sure to sign the permission slips in the communication books. 6月6日星期一,我们将组织小朋友们坐校车去奔驰文化中心彩排。请家长们记得在练习册里的通知上签名哦!
Don't forget our end of year performance will be on Wednesday 8th of June. Please drop off your child at SEIPS at the normal time then parents make your way to the Benz Arena .年终表演活动将在6月8日周三举行。这一天还是像往常一样送小朋友来学校,然后家长们需要自行去奔驰文化中心哦!
The Performance will start at 10 and Finish at 12. Straight after the Performance all Children need to be picked up by their parents from the stage.演出将在十点开始,十二点结束。演出结束的时候,家长需要从舞台上将小朋友们接回去哦。
WEDNESDAY 8th is a half day only, There will be No Lunch and all children should be picked up at the Arena at 12 o'clock (directly after the performance).星期三这天是半天的,学校没有为孩子们准备午餐,家长需要在12点的时候直接把孩子从奔驰文化中心接回去。(直接在表演结束后)
We are sending home 3 tickets per family with kids who ride the school bus. For parents who pick their children up from school, please go to reception and pick up your tickets there. 坐校车的小朋友,我们已经将演出门票放在书包里送回去了,每个家庭有三张票哦!自己来学校接小朋友的家长们,请大家去前台领取你们的门票哦!
There will be no school on Thursday 9th June for Dragon Boat festival. Friday 10th June is a normal School day.端午节6月9日星期四这一天学校是放假的,但是星期五还需要来学校上学的。
13th-16th will be our last days of school before we finish the school year. 6月13-16日是我们最后上课的日子。 last day of school will be Thursday 16th, June.6月16日星期四是最后一天上学的日子! (We apologise for the misunderstanding during conferences.很抱歉,家长会上我们说错了日期)
Next week we will continue to talk about transport focusing on 'In the Air.' If you have books and toys for the topic, please do bring them to school for show and tell.
We are sorry that this blog is a little shorter, this is a rewrite after the first full draft crashed. However, we were lucky to keep our gorgeous photos!
Have a lovely weekend,
The Sabers Team